---
If you're a regular customer this is an opportunity you don't want to pass up!
A great gift idea for anyone who loves reptiles!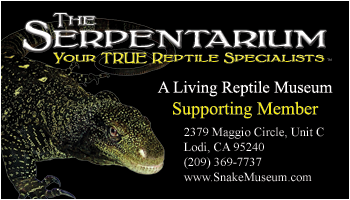 ---
Supporting Member - $49 [Buy Online]
-

Ability to purchase products at our

Wholesale Prices!
- Special Pricing

on all Animals (10-20% off)!

-

Access to our monthly

Members Only Sales!
- 10% off

all Products! (Bulbs, Bedding, etc.)

- 10% off

all Feeders! (Mice, Rats, Crickets & Worms)

- 10% off

all Experiences & Animal Feedings!

- 10% off

Guided Tours & Birthday Parties!

- 10% off

all Services & Workshops!

- Free, Unlimited Access

to the Museum for 1 full year!
---
Frequent Visitor - $8 [Buy Online]
Our basic membership allows an individual FREE, Unlimited Access to our Living Reptile Museum located in Lodi, California! Come as often as you'd like and avoid paying admission for 1 full year!
Family Discount - Get 1 FREE Frequent Visitor Pass with every 2 purchased!
---
* Memberships are non-refundable, non-transferrable, and are valid for 1 full year (12 months). Member benefits and or discounts cannot be combined with any other discounts, sale or coupon.